HOW IT WORKS, WHAT IT DOES.
Fraxel is the original fractional laser treatment that works below the skin's surface from the top down, addressing imperfections like fine lines, visible photo aging, wrinkles, scarring and age spots. Fraxel light energy stimulates your skin's natural collagen, rejuvenating skin cells below the surface to help smooth the creases and pockets that cause wrinkles and scars. Fraxel only treats targeted problem areas – so the results are focused and effective.
---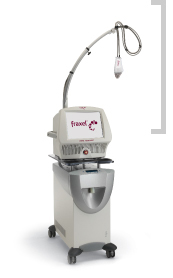 For many people, Fraxel is a logical next step in their skin care regimen.
Find out how Fraxel fits for you >

THE TREATMENT AND THE SCIENCE>
Learn how Fraxel laser-light energy kick-starts your skin's natural rejuvenation processes.
At almost 50, thanks to my dermatologist and his skill, combined with a very healthy lifestyle, people never guess me at more than 40. What a great second half of life when I can look in my mirror to put on my make-up and actually LOVE looking at my skin! Fraxel was the underpinning of my transformation.Linda, Age 49
Lithia, FL - USA